Greetings, kind soul ~ I'm glad you're here

Every single day we are privy to bits of beauty, but in our haste we fail to see them ... we're too busy, and too focused on what we're doing.

We miss the chance to appreciate some of the simple wonder and brilliance that abounds in this world. My focus ~ pun intended ~ is on bringing those bits of beauty into the spotlight ~ helping you to see life and the world 'in a different light'.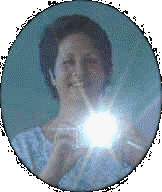 Although floral photography formed the basis of my work at the beginning, lately I find that it has changed to include scanning, fractals, and editing. I like to "play" with my images, tweaking the colors, or the shapes, or applying special effects.



I like taking "what IS" and turning it into what it "COULD be" and I use editing programs to do that. You don't have to spend a mint to be able to edit and create using photos as a base – you just need time to play and experiment. Try to leave your expectations and self-judgment at the door.



I use Photoshop Elements, almost exclusively, to edit my images. Feel free to check out my Before/After page because it really gives an idea of how images change through manipulation.

I have now officially become a camera geek – I have 4 cameras – all digital, all point-and-shoot: a Kodak, a Nikon, an Olympus and a Panasonic. I also use an Epson scanner to create images – talk about wonderful resolution!


In the music business, singers will do their own versions of other musicians work, and it will be called a "cover". The way I look at it, I do covers of some of Nature's greatest hits. I hope you find something that appeals to you ~ something that speaks to you ~ as you view my work. Let me know what you think!

~ I wish you light and laughter ~

Deb Booth